CHRISTMAS EXHIBITIONS
Come and join us for Mulled Apple Juice around the Hearth in the Barns on the first two weekends of December
We are launching a wonderful new series of paintings by Becky Munting from The Wildfowl, Waterbird & Wetland Residency alongside newly framed Flock & Livestock Drawings by Jason Gathorne-Hardy and a new collection of beautiful Autumnal Momiji Silk Scarves by Jenny Nutbeem.
Alongside the Christmas Exhibitions, we are also showing new and recent work from our Residency Collections as well as a wonderful selection of woollen blankets, sheepskins and pottery. Come and visit us on our open days or email for more information : enquiries@galloper-sands.co.uk.
To receive our Newsletter please click here.
---
START of ADVENT WEEKEND
Fri 1st Dec : 11am – 5pm
Sat 2nd Dec : 11am – 9pm
Sun 3rd Dec : 11am - 5pm
SECOND WEEKEND of ADVENT
Sat 9th Dec : 11am – 5pm
Sun 10th Dec : 11am – 5pm
SPECIAL EVENTS : SAT 2nd DECEMBER
2.30pm – 4pm : LAUNCH PARTY for the Christmas Exhibitions
Mulled apple juice & introduction to the works on show
6pm – 9pm : CAROL SINGING in the Barns around the Hearth
[Download Christmas Carol Sheet (.pdf)]
Mulled apple juice & hot squash soup
Please wear warm clothes
---
White House Farm, Great Glemham, Suffolk IP17 1LS
(What3Words Co-ordinates : clearcut.beyond.action)
FREE PARKING & ENTRY
Families & children welcome. No dogs please.
Warm outdoor clothes and footwear recommended.
The farm is a working farm. Please keep to public access areas.
Please be aware of uneven surfaces.
---
CHRISTMAS EXHIBITIONS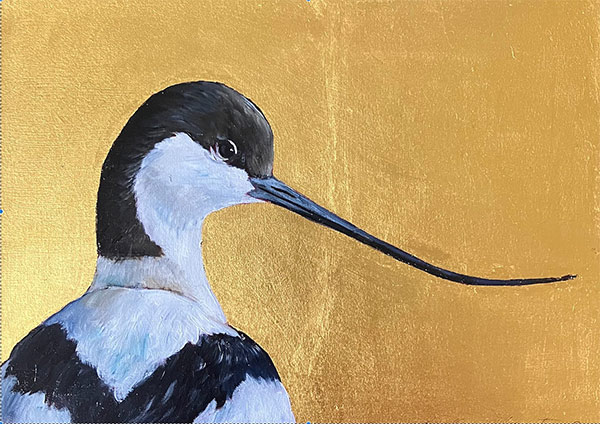 BECKY MUNTING
The Wildfowl, Waterbird & Wetland Residency
This new collaboration builds upon the previous success of The Rebirding Residency at White House Farm which drew inspiration from the writing of Benedict Macdonald. It was linked to a range of conservation projects on the farm that were designed to increase the availability of food, nesting sites and habitat for wild birds.
Over three years we have seen remarkable increases in the populations of goldfinches and swallows, as well breeding pairs of kestrels, buzzards, little owls, tawny owls, green and greater spotted woodpeckers. The creation of wetland scrapes in the floodplain brought in herons, kingfishers, common sandpipers - and one egret.
The Wildfowl, Waterbird & Wetland Residency expands on the original Rebirding Residency. It celebrates the importance of wetland habitats in the Suffolk landscape, both on the coast and along its many inland river valleys.
Collectively, these are of regional and global importance to many migratory bird species. The Wildfowl, Waterbird & Wetland Residency celebrates these precious habitats and the bird life they support through Becky's beautiful paintings.
We are delighted to be able to present our second collection of new paintings from Becky's studio - just in time for Christmas!
Catalogue Available Here [pdf]
---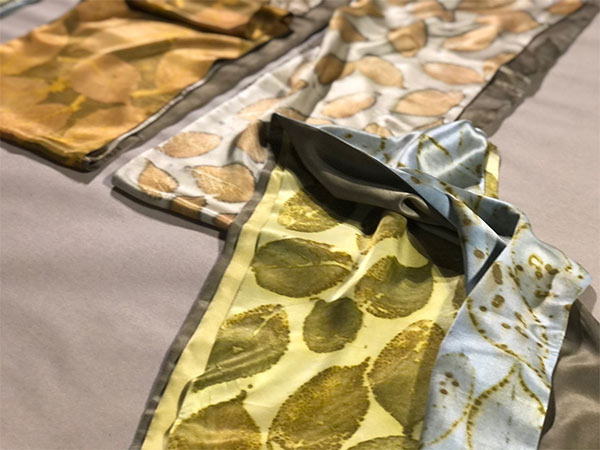 JENNY NUTBEEM
Autumnal Momiji Silk Scarves
We are delighted to be working with Jenny Nutbeem as part of The Textile & Natural Dye Residency to create a new collection of autumnal silk scarves to celebrate the Japanese tradition of Momijigari - the hunting or searching for red and golden leaves on trees in autumn.
A beautiful new display of Autumnal Momiji Silk Scarves will be on show and for sale in the barns as part of our 2023 Christmas Opening. Each scarf has been printed and dyed by hand using leaves collected from flowering cherry trees at White House Farm.
We are hanging Jenny's scarves in an Autumn Avenue so you can embark on your own momijigari adventure in the barns, walking through a grove of tumbling silken cherry leaves caught mid-fall in Jenny's exquisite scarves. They make truly unique presents with a wonderful heritage !
For more information please contact : enquiries@galloper-sands.co.uk
---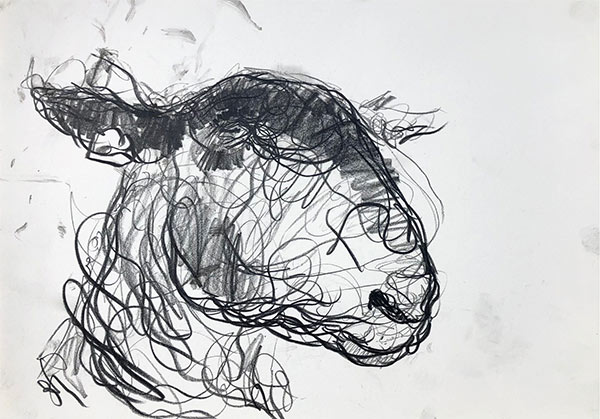 JASON GATHORNE-HARDY
Livestock & Flock Drawings
Jake Nicholson, in a foreword to the book A Painters Place about his parents' house Banks Head in Cumberland, remarked that we often don't realise the importance of having farm animals or livestock in our lives until they have gone : until the farm buildings that housed them and the fields that fed them are empty of their presence.
It is true that in many areas, overgrazing can lead to a loss of habitat, especially of forest cover. This is certainly a trend that needs to be reversed : we need more forest cover in the UK and in many other parts of the world. But livestock have been part of the fabric of the rural and semi-wild landscapes for millenia. If we go too far in emptying the land of sustainably and compassionately tended farm animals, there is a risk that we lose touch with part of ourselves.
Here at White House Farm, the sheep flock are very much part of the extended community of people, livestock and wildlife that bring the farm to life. We have been researching the use of their wool for spinning and weaving – whilst also working to enrich the pastures, hedgerows, tracks and woodland edges that make up the rich landscape tapestry of grazed land in the beautiful Upper Alde Valley.
The drawings of sheep in the Christmas Exhibition were mostly made at dawn and in the early morning during the summer months of 2023 – as the animals chewed their cud, grazed or slept in the morning sunshine. The drawings of cattle are a mixture of recent studio drawings and older field drawings of herds near Sibton and Iken.
Flock & Livestock Drawings Catalogue Available Here [pdf]
---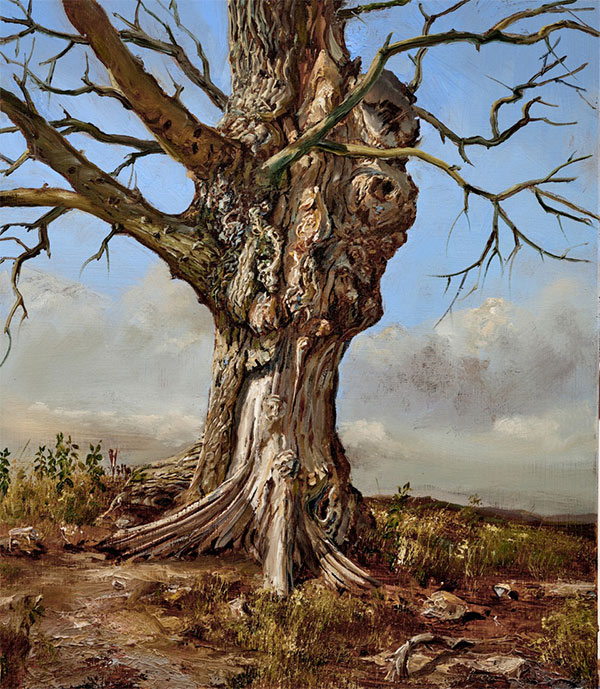 THE RESIDENCY COLLECTIONS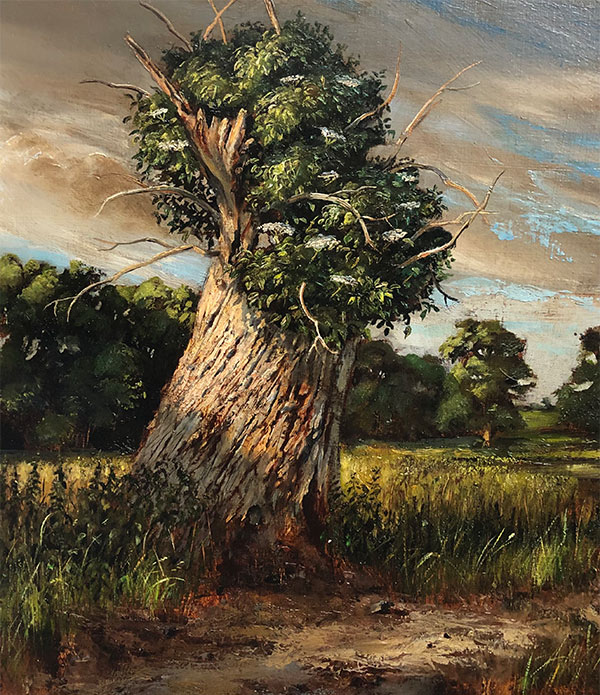 JULIAN PERRY
The Pollard Residency
We are delighted that The Pollard Residency with the painter Julian Perry has continued for another year. The first part of the residency followed a major solo show There Rolls the Deep - The Rising Sea Level Paintings at Southampton City Art Galleryin 2022. For The Pollard Residency, Julian has explored the appearance and distribution of veteran pollards in the Vale of Great Glemham and other areas near the Suffolk Coast.
Pollarding was used as a way of harvesting fodder, firewood and timber from trees without felling them. It was most commonly applied to hornbeams, ash, willow and oak - with curved timbers from oak pollards used to make the ribs of galleons.
Some of the oldest oak trees in East Anglia are pollards - and there is a genuine concern that the absence of pollarding in modern forestry may lead to the loss of many veteran trees and also the absence of a future generations of similar trees. Many of our old pollarded oaks stand as sentinels in the Suffolk landscape - messengers from different times in which there were no combustion engines and the air was cleaner and wildlife was more abundant.
Their presence is perhaps a reminder for us to treat ourselves as co-habitants of the planet and work harder to fetch back more wild plants and animals into our landscapes : to enrich the ecology of the land again. Julian's paintings have the same effect. They are like markers in time, capturing the remarkable character of these trees - and perhaps reminding us to welcome back more wildlife into our lives.
View an interview with Julian Perry
---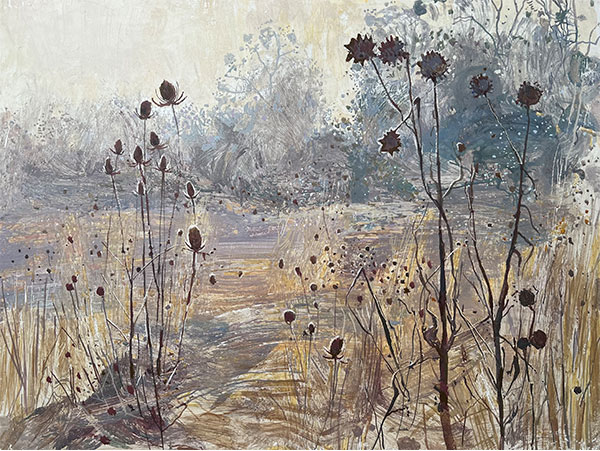 RUTH STAGE
Into the Light : Exploring the River Alde
In this new residency collaboration we are working with the painter Ruth Stage to explore the course of the River Alde as it flows through the East Suffolk countryside, from its hidden beginnings near Badingham to join the broad estuary at Snape, before flowing on into the sea at Shingle Street.
As it makes this winding journey through the low-lying East Suffolk landscape, the plant life and scenery along the river's edges changes dramatically : from thickly vegetated hedgerows, pastures and woodland to tall reed beds and herb-rich salt marshes.
Working in egg tempera, Ruth's paintings capture the changing scenery, looking into the light through the rich and varied foliage that grows along the river's margins and in hedgerows and fields nearby.
---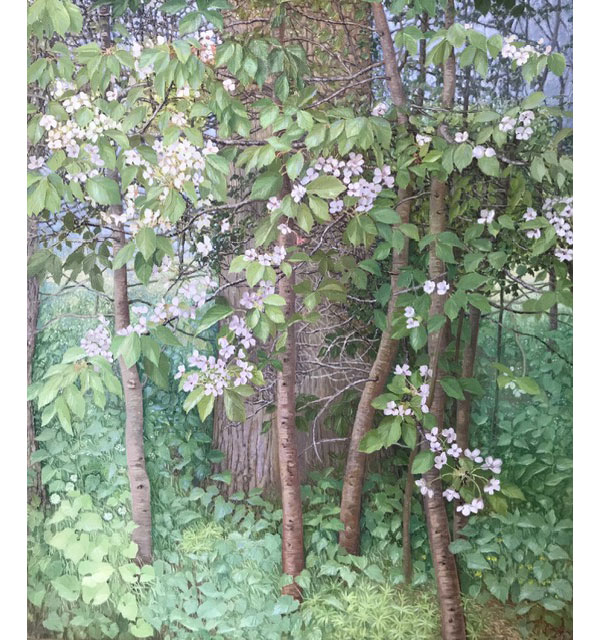 JANE WORMELL
The Hedge Residency
Hedgerows have become a vital part of the ecological fabric at White House Farm. Over the past 30 years, and especially during the last decade, we have been replanting hedges and testing out different ways of making them thicker and more welcoming – and richer in wildlife. We call it the 'woolly jumper effect'. The more bio-diverse, thicker and entangled the hedges are, the more wildlife they welcome : plants, invertebrates, small mammals and birds.
Through this approach, we are beginning to learn which management strategies benefit wildlife most – or which combinations of interventions work best together. These include : hedge laying; double-planting new and old hedges; creating hedgerows with wildflower strips alongside; allowing hedges to grow with scrub and mown paths along one side; leaving hedges to grow tall; and flailing hedges annually to keep their growth contained and dense.
The Hedge Residency is a multi-year collaborative project in which we have invited the painter Jane Wormell to visit the farm through the seasons over three to four years. The intention is to then explore and respond to the different types of hedgerow found around the fields and woodland edges - and to record the plant life within them through her beautiful paintings.
---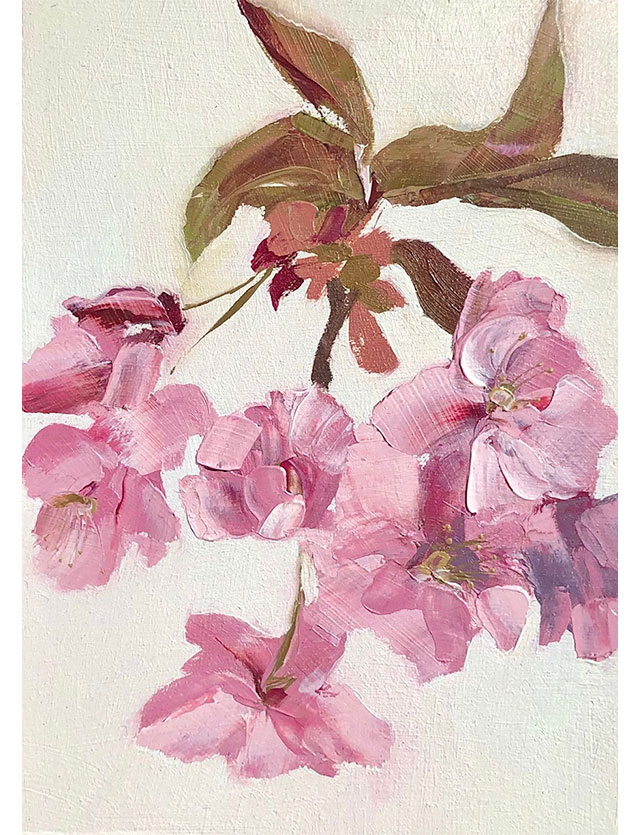 EMMA GREEN
The 'Cherry' Ingram Blossom Residency
Collingwood 'Cherry' Ingram is widely regarded as a saviour of Japanese flowering cherry varieties - see the wonderful book about his life by the writer Naoko Abe ['Cherry Ingram - The Englishman Who Saved Japan's Blossoms'].
For many years he resided at The Grange in Benenden, Kent. The garden still contains many trees and shrubs from his extensive collection of flowering cherries and other rare plants. One of Collingwood's successors as a cherry saviour is Mr Masatoshi Asari from Matsumae in Hokkaido - a schoolteacher and cherry breeder who has created over 100 new varieties of Matsumae cherries.
Emma Green's Blossom Residency follows the flowering season of over forty cherry trees that grow at White House Farm in the beautiful Upper Alde Valley and Vale of Great Glemham. Her latest paintings from the 2023 Sakura focus on Matsumae varieties of cherry created by Mr Masatoshi Asari from Hokkaido.
Emma's blossom paintings include studies and larger paintings of many of the varieties growing at the farm, including Taihaku, Hokusai, Kursar, Korean Hill Cherry, Okame, Collingwood Ingram, Kanzan, Fragrant Cloud, Chocolate Ice / Matsumae-Fuki, Taoyame, Amanogawa and Fugenzo.
Working with Naoko Abe, we are exploring the creation of a new Matsumae Cherry Collection at White House Farm and a Matsumae Cherry Park in Great Glemham village in tribute to Mr Asari's lifelong devotion to flowering cherries – recorded in new Matsumae Blossom Paintings by Emma Green.
For more information please contact : enquiries@galloper-sands.co.uk
---
PERIENNE CHRISTIAN
Alive in the Landscape : Dreaming a New Dream
This is the third collection of new paintings and etchings to emerge from Alive in the Landscape, an ongoing multi-year residency collaboration with Perienne Christian. Dreaming a New Dream focuses on work that relates to the soft eroding landscape and wild plants that are found along the Suffolk coast near Bawdsey on the Deben Peninsula.
This low-lying land has a character all of its own. It is bordered on one side by the North Sea, into which it yields its soft, sandy cliffs with the passing tides; and on the other by the meandering creeks, salt marshes and mudflats of the Deben Estuary.
As Perienne Christian's work has grown in scale, depth and confidence, the viewer is increasingly drawn into her vision of the world. It is a fascinating and deeply engaging place to behold. The paintings, monoprints and etchings from the residency collaboration, as much as the plants that she studies, guide the viewer on a journey into this constantly changing coastal landscape, offering a window into the artist's richly observed and visually vibrant world.

---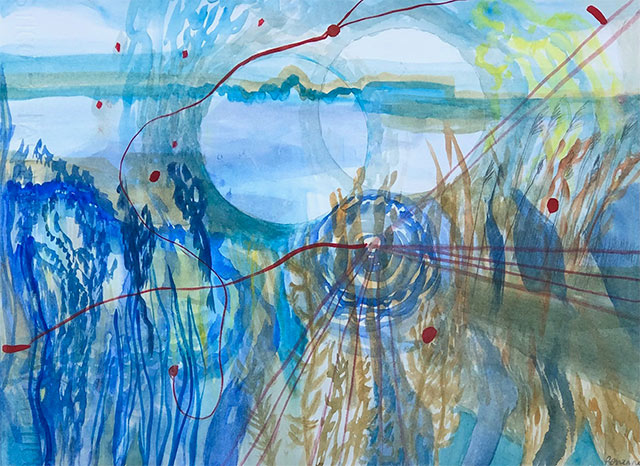 GUEST WRITER : SARAH SALWAY
White House Farm and Galloper-Sands are both involved with an ongoing residency project called Writing at Great Glemham. This offers writers time to rest, reflect and work in the beautiful surroundings of the Upper Alde Valley - the home of George Crabbe, HW Freeman, Ronald Blythe, Hugh Barrett, George Ewart Evans and more recently Melissa Harrison.
The poet Sarah Salway, a past recipient of a Writing Residency and also a guest writer for Perienne Christian's previous solo show, was invited to respond to Alive in the Landscape ~ Dreaming a New Dream. The result is a wonderful selection of poems that have come into being through this collaboration.
In tribute to the work of both the artist and the writer, we have gathered together images of Perienne's paintings and Sarah's poems in a separate publication Alive in the Landscape ~ Dreaming a New Dream, which is available in both digital format.
---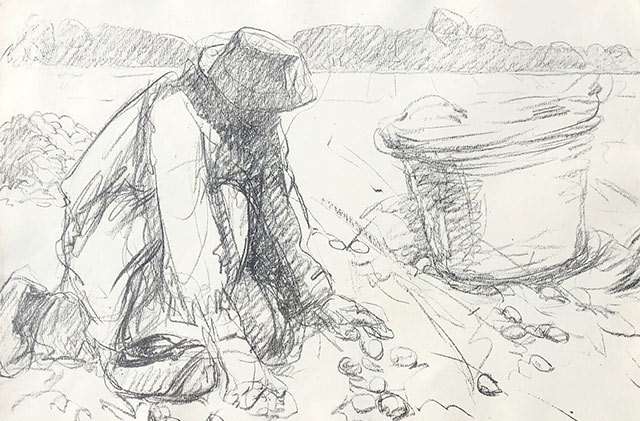 HARRY BECKER
Drawings, Lithographs & Watercolours
We are delighted to be able to offer for sale lithographs, drawings and paintings by Suffolk artist Harry Becker. All works are sourced from the Loftus Family Collection, which received much of Harry Becker's estate. Becker grew up in Colchester in East Anglia and trained as an artist at the Antwerp Academy in Belgium from the age of 14, a few years ahead of Vincent van Gogh. He was celebrated in his own lifetime in the early 1900s for his etchings and lithographs, which feature in many museum and gallery collections around Europe.
He was less well known at the time for his field sketches, drawings and paintings but he is arguably one of East Anglia's most important impressionist artists from the first half of the twentieth century. He moved with his family, his wife Georgina and daughter Janet, to Wenhaston in East Suffolk. Here, until his death in 1928, he spent his days and the passing seasons watching and drawing people at work in the landscape. His work has gained, quite rightfully, a much wider audience and a very loyal following in the past two decades. We are honoured and delighted to be able to work on behalf of the Loftus Family Collection, releasing selected works for sale.
For more information please contact : enquiries@galloper-sands.co.uk
Horses in the Landscape Catalogue Available Here
---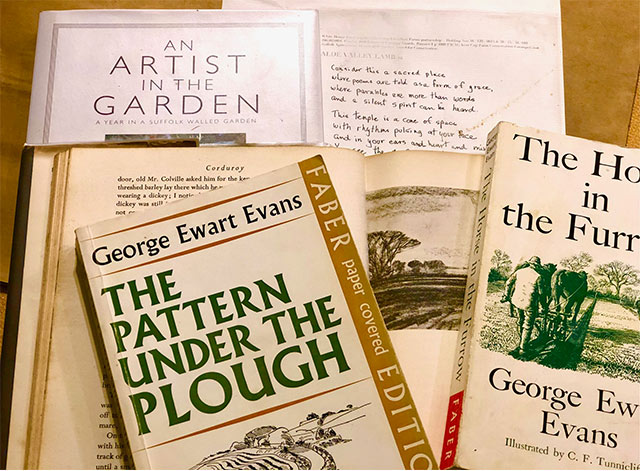 WRITING AT GREAT GLEMHAM
Galloper-Sands manages a rural writing residency programme in association with White House Farm and our parent enterprise The Alde Valley Spring Festival Ltd. Called Writing at Great Glemham, it taps into a rich local vein of rural writing that embraces the work of George Crabbe, HW Freeman, George Ewart Evans, Ronald Blythe, Hugh Barrett and more recently Melissa Harrison - with Adrian Bell and Julian Seymour also writing nearby.
Over the past seven years we have welcomed over thirty writers to the farm and its landscape in the beautiful Vale of Great Glemham - and to a remote farmhouse in the Howgill Fells in Cumbria. Words are an important currency in our lives : the ones we choose to use and the ones we choose to discard has a bearing on how we live our lives and also how we experience the act of being alive. They have shape, weight and form as well as meaning. There is also an often overlooked musicality to language, which means that words can have resonance that reaches beyond their intellectual meaning into the realm of sonic impact.
One of the more idiosyncratic local authors in Suffolk UK - from the Deben river valley - was Nathaniel Fairfax of Woodbridge. In his publication Bulk & Selvedge of the World [1674] he took a firm view on vocabulary and dialect :
"I think it will become those of us who have a more hearty love for what is our own, than wanton longings after what is others, to fetch back some of our own words that have been jostled out in the wrong .. or else to call in from the fields and waters, shops and workhousen, that well-fraught world of words that answers works; by which all learners are taught to do and not to make a clatter."
He was writing from a land in which Isaac and Ash later came to mean a scythe, Phoebe was the sun and a mavis was a thrush : words that somehow resonate with the soft Suffolk landscape. We are returning to the Writing at Great Glemham residency programme in 2024 after past collaborations with the University of East Anglia, Flipside Festival and Poetry in Aldeburgh.
---
GALLOPER-SANDS BESPOKE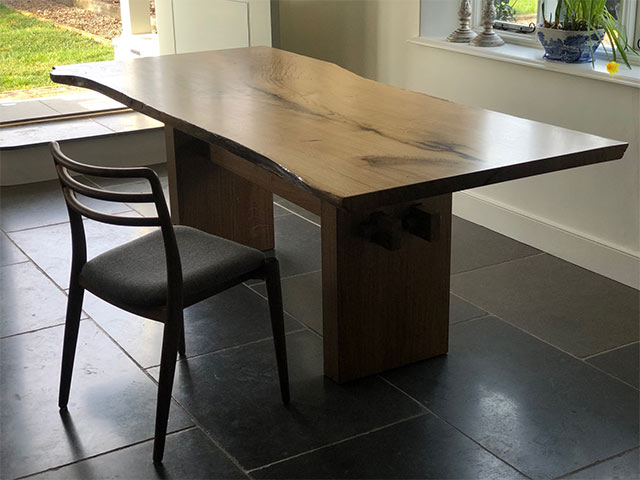 Handmade Tables, Benches and Stools
Working with a small number of carefully selected Guest Makers from around the UK, we can offer customers an in-house design and build service for handmade chairs, stools, benches, coffee tables and dining tables.
Our specialities include benches, stools and large single plank dining tables made from slabs of home-grown / locally sourced oak, ash and Cedar of Lebanon.
For more information please contact : enquiries@galloper-sands.co.uk
---
Location : How to Find Us
We are located on The Grove lane between the villages of Great Glemham and Sweffling in the beautiful Upper Alde Valley of East Suffolk UK :
White House Farm
The Grove
Great Glemham
Suffolk IP17 1LS
Find us
Contact : enquiries@galloper-sands.co.uk / [00 44] 1728 663531
Instagram : @gallopersands
Newsletter : Sign up here
Galloper-Sands is part of The Alde Valley Spring Festival Ltd - Company No 7592977 is based at White House Farm, Suffolk UK.