Summer & Autumn Exhibitions
Open 10am-5pm
Fridays / Saturdays / Sundays
The Barns, White House Farm, Great Glemham, Suffolk IP17 1LS

Refreshments served in the barns on Saturdays and Sundays
Woodland Nature Walks Open
Come and join us and explore the beautiful Upper Alde Valley Families and children welcome!
No dogs please ~ we are a working sheep farm with poultry too
Good local pubs at Rendham, Sweffling and Great Glemham
Wonderful walks on local footpaths
NOTE : all food and drink will be served in the open air with safe distancing
---
PERIENNE CHRISTIAN
Alive in the Landscape : Dreaming a New Dream
6th August - 18th September : 10am - 5pm Fridays / Saturdays / Sundays
This is the second major collection of new paintings, etchings and monoprints to emerge from Alive in the Landscape, an ongoing multi-year residency collaboration with Perienne Christian. Dreaming a New Dream focuses on work that relates to the soft eroding landscape and wild plants that are found along the Suffolk coast near the artist's home in Bawdsey on the Deben Peninsula. This low-lying land has a character all of its own. It is bordered on one side by the North Sea, into which it yields its soft, sandy cliffs with the passing tides; and on the other by the meandering creeks, salt marshes and mudflats of the Deben Estuary.
As Perienne Christian's work has grown in scale, depth and confidence, the viewer is increasingly drawn into her vision of the world. It is a fascinating and deeply engaging place to behold. These latest paintings, monoprints and etchings from the residency collaboration, as much as the plants that she studies, guide the viewer on a journey into this constantly changing coastal landscape, offering a window into the artist's richly observed and visually vibrant world.
Catalogue Available Here [pdf]
---
GUEST WRITER : SARAH SALWAY
White House Farm and Galloper-Sands are both involved with an ongoing residency project called Writing at Great Glemham. This offers writers time to rest, reflect and work in the beautiful surroundings of the Upper Alde Valley - the home of George Crabbe, HW Freeman, Ronald Blythe, Hugh Barrett, George Ewart Evans and more recently Melissa Harrison.
The poet Sarah Salway, a previous recipient of a Writing Residency and also a guest writer for Perienne Christian's previous solo show, was invited to respond to Alive in the Landscape ~ Dreaming a New Dream. The result is a wonderful selection of new poems that have come into being through this collaboration.
In tribute to the work of both the artist and the writer, we have gathered together images of Perienne's paintings and Sarah's poems in a separate publication Alive in the Landscape ~ Dreaming a New Dream, which is available in both digital and printed format.
Poetry Publication Available Here [pdf]
---
EMMA GREEN
A Suffolk Sakura : The 'Cherry' Ingram Blossom Residency
9th July - 4th September : 10am - 5pm Fridays / Saturdays / Sundays
This spectacular solo show of new blossom paintings by Emma Green from The 'Cherry' Ingram Blossom Residency is on display in the farm's early 19th century Threshing Barn, accompanied by a new collection of Suffolk Sakura Silk Scarves made by textile artist Jenny Nutbeem as part of her ongoing Textile and Natural Dye Residency.
Collingwood 'Cherry' Ingram is widely regarded as a saviour of Japanese flowering cherry varieties - see the wonderful book about his life by the writer Naoko Abe ['Cherry Ingram - The Englishman Who Saved Japan's Blossoms']. For many years he resided at The Grange in Benenden, Kent. The garden still contains many trees and shrubs from his extensive collection of flowering cherries and other rare plants. One of Collingwood's successors as a cherry saviour is Mr Masatoshi Asari from Matsumae in Hokkaido - a schoolteacher and cherry breeder who has created over 100 new varieties of Matsumae cherries.
Emma Green's Blossom Residency follows the flowering season of over forty cherry trees that grow at White House Farm in the Vale of Great Glemham - the home of Galloper-Sands Gallery. Her latest exhibition presents a magnificent collection of new blossom paintings from the 2021 and 2022 blossom seasons or sakura. These include studies and larger paintings of many of the varieties growing at the farm, including Taihaku, Hokusai, Kursar, Korean Hill Cherry, Okame, Collingwood Ingram, Kanzan, Fragrant Cloud, Chocolate Ice / Matsumae-Fuki, Taoyame, Amanogawa and Fugenzo.
Catalogue Coming Soon
---
JENNY NUTBEEM
A Suffolk Sakura : Suffolk Sakura Silk Scarves
Galloper-Sands Textile & Natural Dye Residency
9th July - 4th September : 10am - 5pm Fridays / Saturdays / Sundays
This ongoing residency project with Jenny Nutbeem explores natural dyes at the farm. For Summer 2022, we are delighted to present a beautiful collection of new Suffolk Sakura Silk Scarves by Jenny. These were created in Spring 2022 using blossom collected from cherry trees at the farm and dyes gathered from other plants growing onsite or nearby.
The result is an exquisite series of 24 hand printed and hand dyed Suffolk Sakura Silk Scarves - made in pairs but sold individually. They are hung in the order in which the cherry trees flowered, with an invitation for viewers to walk through the avenue of scarves and have a wish at the end - as guests emerge from Jenny's beautiful re-creation in silk of the 2022 cherry blossom season.
Catalogue Coming Soon
---
JULIAN PERRY
The Pollard Residency
24th September - 30th October : 10am - 5pm Fridays / Saturdays / Sundays
We are delighted to announce a new Galloper-Sands Residency Exhibition with the painter Julian Perry - fresh from a major solo show There Rolls the Deep - The Rising Sea Level Paintings at Southhampton City Art Gallery. For the residency, Julian is exploring the appearance and distribution of veteran pollards in the Vale of Great Glemham and near the Suffolk Coast. Pollarding was used as a way of harvesting fodder, firewood and timber from trees without felling them. It was most commonly applied to hornbeams, ash, willow and oak - with curved timbers from oak pollards used to make the ribs of galleons.
Some of the oldest oak trees in East Anglia are pollards - and there is a genuine concern that the absence of pollarding in modern forestry may lead to the loss of many veteran trees and also the absence of a future generations of similar trees. Many of our old pollarded oaks stand as sentinels in the Suffolk landscape - messengers from different times in which there were no combustion engines and the air was cleaner and wildlife was more abundant. Their presence is perhaps a reminder for us to treat ourselves as co-habitants of the planet and work harder to fetch back more wild plants and animals into our landscape : to enrich the ecology of the land again. Julian's paintings have the same effect. They are like markers in time, capturing the remarkable character of these trees - and perhaps reminding us to welcome back more wildlife into our lives.
Catalogue Coming Soon
---
TESSA NEWCOMB
The Garden Residency
22nd October - 30th November : 10am - 5pm Fridays / Saturdays / Sundays
Tessa Newcomb's beautiful paintings have been at the heart of Festivals and Exhibitons at White House Farm, the home of Galloper-Sands, for almost twenty years. We are delighted to be working together with Tessa on a new Garden Residency. This has its origins in a series of raised beds built in April 2020, during the first covid lockdown. Two years later, in the spring of 2022, Tessa suggested creating a new flower garden at the farm, using these new raised beds.
This has become the source of inspiration for a new Garden Residency. The first painting has already arrived at the farm and we will be building up to a solo exhibition in October, as we start to lay plans for a new Rose Garden as well. The plan is for this to welcome old English roses and other varieties collected from the houses and gardens of friends and family around the country. Above all, gardening seems to be about stories : tales of the lives of plants and where they come from. Gardens and gardeners then become part of the production - as stage and actors. We look forward to telling you more about this project as it develops, introducing some of the plants and their stories through paintings and words.
---
RESIDENCY COLLECTIONS
We are also showing smaller selections of new works from other artists and makers who are taking part in the Galloper-Sands Residencies as they arrive from the fields, woods, rivers and coastline of the Alde Valley and Suffolk Coast. These include Jane Wormell [The Hedgerow Residency], Jennifer Hall [Woodland Residency] and Ruth Stage [Into the Light : An Exploration of the River Alde and its Tributaries].
JASON GATHORNE-HARDY ~ Flock Drawings
ALICE-ANDREA EWING ~ The Fungi / Mycorrhiza Residency
JIM PARSONS ~ Alde Valley Settles / The Fromus Chair
SYNNOVE FREDERICKS ~ T-Table / T2-Table
MICHAEL PRITCHARD-BARRETT ~ The Big Table Project
+
HISTORIC WORKS by HARRY BECKER / MARGARET THOMAS
+
CRAFT SHOP & POP-UP BOOKSTORE
Vandertas handmade bags
Herber & Co natural soaps and shampoo bars
Pottery by Mercury Hare and Steven James Will
Jewellery by Eilidh Allan
Silk Scarves and hand printed cards by Jenny Nutbeem
Books from Little Toller and Writers from our Residencies
British wool throws, gloves and sheepskins
FOR MORE INFORMATION ABOUT FORTHCOMING SOLO SHOWS & ALL SALES Please contact : enquiries@galloper-sands.co.uk
---
FREE PARKING & ENTRY
Families & children welcome. No dogs please.
Warm outdoor clothes and footwear recommended.
The farm is a working farm. Please keep to public access areas.
Please be aware of uneven surfaces.
---
Introducing Galloper-Sands
Galloper-Sands is the new online art gallery for the Alde Valley Spring Festival Ltd. We specialise in offering collections of historic and contemporary works of fine art and heritage crafts made by Guest Artists and Makers who are part of our new land-based residency programme at White House Farm in the beautiful Vale of Great Glemham in East Suffolk UK.
Catalogues of our current Historic and Contemporary Collections are available upon request. We also have showrooms in a beautiful rural location in East Suffolk. We can offer customers pre-booked private viewings of the Galloper-Sands Collections - or come and visit us on Wednesdays and Weekends throughout the year.
After the viewing, guests are invited to stay for a picnic or explore some of the public footpaths and private nature walks at the farm - also the home of the Alde Valley Spring Festival and Plomesgate Fair. A Gallery Shop and Farm Bookshop are also open to visitors who are viewing the Galloper-Sands Collections.
The Gallery Shop stocks a carefully curated selection of items from Galloper-Sands Handmade - all crafted by Guest Makers with whom we are collaborating to offer unique designs of handmade pottery, porcelain, silk scarves, woolens, jewellery, culinary knives, books, baskets, cards and bags - together with handmade furniture.
We very much look forward to welcoming you to the farm for a visit - or helping you with any online enquiry you may have about works for sale in the Collections.
If you would like more information about any of our Collections please contact : enquiries@galloper-sands.co.uk
---
Your privacy is important and we will not share your data with any other companies. We will only contact you about events and news from Galloper-Sands and seasonal events managed by Alde Valley Spring Festival Ltd.
---
Galloper-Sands Historic Collections
We are delighted to be able to offer for sale lithographs, drawings and paintings by Suffolk artist Harry Becker. All works are sourced from the Loftus Family Collection, which received much of Harry Becker's estate. Becker grew up in Colchester in East Anglia and trained as an artist at the Antwerp Academy in Belgium. He was celebrated in his own lifetime in the early 1900s for his etchings and lithographs, which feature in many museum and gallery collections around Europe.
He was less well known at the time for his field sketches and drawings - and his paintings. He moved with his family, his wife Georgina and daughter Janet, to Wenhaston in East Suffolk. Here, until his death in 1928, he spent his days and the passing seasons watching and drawing people at work in the landscape. His work has gained, quite rightfully, a much wider audience and a very loyal following in the past two decades. We are honoured and delighted to be able to work on behalf of the Loftus Family Collection, releasing selected works for sale.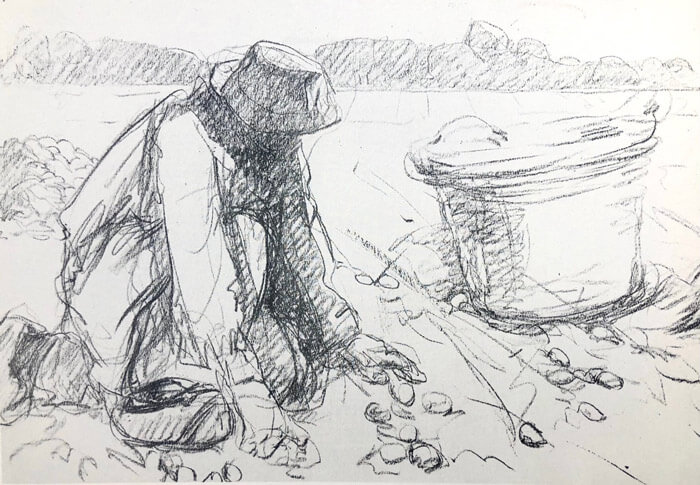 Becker Catalogue 1 : The Lithographs of Harry Becker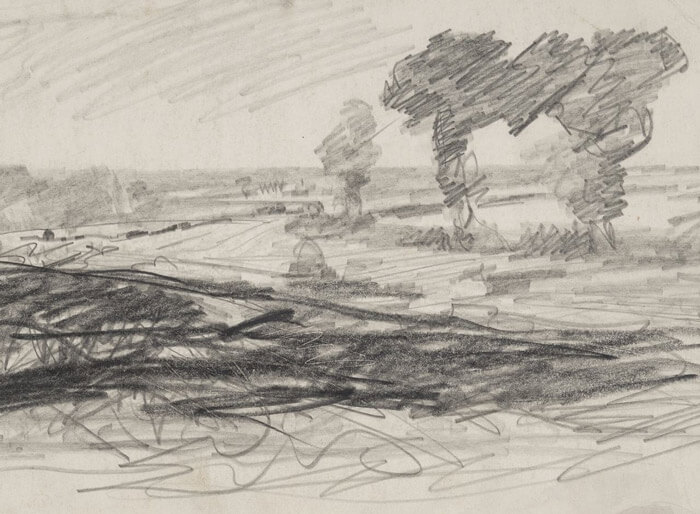 Becker Catalogue 2 : From this Land - Drawings & Watercolours
We also hold small collections of historic Suffolk works by other artists including Mary Potter, Margaret Thomas, Mary Newcomb and Peggy Somerville. Please email us for more information about available works by these artists. If you have works by these or other historic Suffolk artists that you would like us to advise or help with selling, we would also be delighted to assist.
For more information please contact : enquiries@galloper-sands.co.uk
---
Galloper-Sands Contemporary Collections
Our Contemporary Collections present drawings, paintings, sculptures, prints, etchings and coloured engravings by growing number of Guest Artists, all of whom are taking part in our new Galloper-Sands Residency Programme. This offers guest artists one / two / three / four / five year landscape residencies in Suffolk or other locations in the UK and abroad to develop their practice through chosen subject areas. The subject of each residency is developed in collaboration with the artist and is linked to specific wildlife conservation activities and social projects at the farm and elsewhere. The intention is that our residency programme is deeply rooted in the Suffolk countryside, supporting local ecological enrichment, alongside the creative arts.
Further interdisciplinary exchange is supported by inviting guest writers, musicians and sound artists to respond to work arising from the Galloper-Sand Residencies. This interweaving of the visual arts, literature, music and sound installations with local ecology and landscape enrichment feels a vital process moving forwards, allowing for visual and creative arts to be re-rooted in wild ecology, historic landscapes and local communities - both in the UK and internationally.
Each Galloper-Sands Residency leads up to intermittent large Solo Show. These are usually after one or two years of collaboration. But, in working closely with each artist, we are also able to release carefully selected works along the way. These are the source of our Contemporary Collections, which are available exclusively through Galloper-Sands. They can be viewed through our catalogues or in our new showrooms at the farm.
It is an honour to be able to work with the growing number of Guest Artists, Makers, Writers and Musicians who have joined the Galloper-Sands Residency Programme - and whose work contributes to Galloper-Sands Contemporary Collections. More information is provided below. Please feel free to email us for images and prices - or visit us on a Weekend or Wednesday between 10am and 5pm.
---
The Galloper-Sands Residencies
For catalogues please contact : enquiries@galloper-sands.co.uk
The Walks Land Residency ~ Melanie Comber
A year long land residency that follows The Walks field through the four seasons, with visits to the farm at each equinox. The field and its appearance in the changing seasons are represented in a collection of striking new paintings.
Catalogue Available [pdf]
Where I Belong ~ Tessa Newcomb
Tessa Newcomb's work was foundational to the creation of our parent business The Alde Valley Spring Festival. It is a delight to be able to introduce new and historic works by Tessa Newcomb at the start of Galloper-Sands Collections. The paintings celebrate a sense of rootedness that comes from being in one place - in this case the farm and the surrounding Suffolk landscape.
The Cherry Ingram Blossom Residency ~ Emma Green
An ongoing multi-year residency that celebrates the life of Collingwood 'Cherry' Ingram, regarded as a saviour of Japanese cherry blossoms. Over fifty young Japanese flowering cherries grow at the farm. For the past two years Emma Green has been painting each variety of flowering cherry as it breaks into blossom. Guest Writer : Naoko Abe - author of 'Cherry' Ingram - The Englishman who Saved Japan's Blossoms. Guest Musicians / Composers : Dide Siemmond and Charly Jolly and their composition Sakura Avem.
The Rebirding Residency ~ Becky Munting
A two year residency that records and follows bird life at the farm, linked to a range of rebirding projects that are intended to significantly improve habitats for wild birds. These include the creation of wetland areas, woodland clearings, pollen / nectar-rich grassland and nightingale corners. Guest Writer : Melissa Harrison - novelist and nature writer; author of At Hawthorn Time and Rain.
The Woodland Residency ~ Jennifer Hall
A three year residency that explores the wildlife and changing structure of three small areas of planted and wild woodland in the Upper Alde Valley through drawings, bronzes and prints. Guest Writers : Kin'd & Kin'd [Kay Syrad and Clare Whistler]
Alive in the Landscape ~ Perienne Christian
An ongoing residency that explores the character and quality of the land on the ever changing East Suffolk coast, focusing on its shifting shoreline, medicinal plants, wildlife and the landscapes many fleeting historical narratives.
Across the Plough ~ Sarah Butters
A year-long land residency inspired by The Walks field and a contemporary folk song about ploughing with Suffolk Punch horses. During the course of the residency Sarah is creating a hand knitted ploughman's cape, made with wool from the farm, some dyed with plants gathered from around the edges of The Walks field.
On A Turning Wing & The Suffolk Trinity ~ Jason Gathorne-Hardy
Two ongoing residency projects, both connected to the Suffolk landscape. One is linked to Slaughden on the Suffolk coast - a point at which the River Alde and the North Sea almost meet and where seabirds roost, feed and wheel overhead. Guest writer : Paddy Bushe - poet and author of numerous collections including On a Turning Wing, Dedalus Press 2016. The other residency explores the heritage of the Suffolk Sheep, Red Poll cows and the Suffolk Punch - known historically as The Suffolk Trinity of livestock.
Into the Light - An Exploration of the River Alde ~ Ruth Stage
This multi-year residency explores the route of the River Alde, from the source of its main tributaries in the Upper Alde Valley, through the saltmarshes and estuary mudflats to the sea - focusing on plants in the surrounding landscape and light reflected off the river's surface. Ruth Stage's chosen medium for painting is egg tempera, which she uses to catch a sense of light seen through the foliage, flowers and seedheads of plants landscape or reflected off water. One source of inspiration for the residency collaboration is the writing of Julian Seymour in Suffolk Scene - in which he opines that "Suffolk owes all the best parts of her character to her rivers".
The Hedgerow Residency ~ Jane Wormell
A three / four year residency that focuses on wildlife and plants that are found in hedgerows at the farm - themselves the subject of a decade long experiment in how to restore and improve hedgerows for wildlife. With eight different management strategies being tried out, The Hedgerow Residency celebrates hedges through Jane Wormell's beautifully observed paintings of hedgerow plants thorugh the seasons.
The Woodland Residency ~ Jennifer Hall
Already in its fifth year, this long-term landscape residency developed in collaboration with artist and bronze caster Jennifer Hall follows three patches of woodland on the farm through the seasons. The changing character of the woodland is caught in drawings, prints, monotypes and extraordinary burn-out casts in bronze of leaf litter and old abandoned nests. Guest Writers : kin'd & kin'd [Clare Whistler and Kay Syrad]
The Mycorrhizal Residency ~ Alice-Andrea Ewing / Pomarius Collection
Fungi and their mycorrhizal roots are a profoundly important part of life on the farm. After seventeen years without any herbicides / pesticides and four years without nitrogen, the pastures and adjoining patches of woodland are beginning to experience an ever-increasing return of fungi. Some are appearing naturally and others have been assisted by seeding or sporing the land with the heads of mushrooms picked elsewhere. The Mycorrhizal Residency celebrates this return of fungal diversity in an ongoing multi-year collaboration with bronze caster and artist Alice-Andrea Ewing and Pomarius Collections.
The Pollard Residency ~ Julian Perry
The landscape of the beautiful Upper Alde Valley and adjoining Vale of Great Glemham was once the home of Suffolk's gritty poet George Crabbe. His son described the family's time in Great Glemham at the turn of the 18th/19th centuries as "the Alhambra of my existence". Crabbe senior was a passionate amateur botanist - at a time when plant taxonomy and identification had been spurred on by the work of Carl Linnaeus. In 2010 the artist and printmaker Sarah Pirkis created a series of etchings called Crabbe's Oaks in tribute to the many varied trees in the Vale of Great Glemham that were already standing tall and mature during Crabbe's time in the village. As a follow-on to this original project, we have invited the painter Julian Perry to respond to some of the magnificent veteran trees found in the valley. Some are obvious, growing in prominent positions in the landscape. These include parkland oaks and sweet chestnuts. Others are more obscure, but equally magnificent in their own way : such as a vast river-side alder or the much-reduced remains of a hawthorn whose origins may reach back to the time of Henry the VIIIth. Their vulnerability to disease and global warming brings an immediacy to the residency - and a desire to link it to expansive tree-planting and woodland creation on the farm.
Textile & Natural Dye Residency ~ Jenny Nutbeem
This residency collaboration - one of the most recent to be created - takes inspiration from Jenny Nutbeems work as a textile designer, artist and natural dye specialist. From a curatorial perspective, it is also influenced by the film Tawai produced and presented by Bruce Parry. For its title, it borrows the word tawai from the Penan race of Sarawak in Borneo. It describes the quality that land gains when it is full and replete with biology : on song. It prompts the question as to whether all land can be Tawai if we choose to let ecological enrichment and natural biological diversity be companions to development again - to live both with and within nature. In this residency, the natural wealth of plants, earth and natural fibres is explored through paper making, printing and textiles : the resulting works, in particular a range of naturally dyed and printed silk scarves, have become emblematic of this celebration of ecological enrichment and diversity.
---
Writing At Great Glemham
Galloper-Sands manages a rural writing residency programme in association with White House Farm and our parent enterprise The Alde Valley Spring Festival Ltd. Called Writing at Great Glemham, it taps into a rich local vein of rural writing that embraces the work of George Crabbe, HW Freeman, George Ewart Evans, Ronald Blythe and Hugh Barrett - with Adrian Bell and Julian Seymour also writing nearby.
Over the past six years we have welcomed over thirty writers to the farm and its landscape in the beautiful Vale of Great Glemham - and to a remote farmhouse in the Howgill Fells in Cumbria. Words are an important currency in our lives : the ones we choose to use and the ones we choose to discard has a bearing on how we live our lives and also how we experience the act of being alive. They have shape, weight and form as well as meaning. There is also an often overlooked musicality to language, which means that words can have resonance that reaches beyond their intellectual meaning into the realm of sonic impact.
One of the more idiosyncratic local authors in Suffolk UK - from the Deben river valley - was Nathaniel Fairfax of Woodbridge. In his publication Bulk & Selvedge of the World [1674] he took a firm view on vocabulary and dialect :
"I think it will become those of us who have a more hearty love for what is our own, than wanton longings after what is others, to fetch back some of our own words that have been jostled out in the wrong .. or else to call in from the fields and waters, shops and workhousen, that well-fraught world of words that answers works; by which all learners are taught to do and not to make a clatter."
He was writing from a land in which Isaac and ash later came to mean a scythe, Phoebe was the sun and a mavis was a thrush : words that somehow resonate with the soft Suffolk landscape. We are continuing with the Writing at Great Glemham residency programme and are delighted to be launching a new collaboration with the University of East Anglia to welcome two guest writers each year from the new International Chair of Creative Writing and the David TK Wong Fellowship.
---
Galloper-Sands Handmade
Alongside the visual arts, we are fortunate to be located in a landscape that is home to many gifted craft-workers and makers. Our new venture Galloper-Sands Handmade presents contemporary collections of pottery, porcelain, basketry, textiles, woodwork, jewellery, culinary knives and furniture. All designs are made exclusively for us by a growing number of guest makers.
Alde Valley Settles ~ Jim Parsons
The Becker Basket ~ Peter Dibble
Bowls, Jugs & Mugs ~ Mercury Hare
Great Glemham Dairy Stools ~ Jim Parsons
Great Glemham Foraging Bags ~ Studio Vandertas
Great Glemham Porcelain ~ Steven James Will
Hand Printed Textiles ~ Jenny Nutbeem
Suffolk Long Benches ~ Jim Parsons
The T-Table & T2-Table ~ Synnove Fredericks / Arms & Legs
Woodland Jewellery ~ Eilidh Allan
Wesleydale Wool Blankets & Throws ~ Ilketshall Wensleydales
---
Galloper-Sands Bespoke
Working with a small number of carefully selected Guest Makers from around the UK, we can offer customers an in-house design and build service for handmade chairs, stools, benches, coffee tables and dining tables.
Our specialities include benches, stools and large single plank dining tables made from slabs of home-grown / locally sourced oak, ash and Cedar of Lebanon.
For more information please contact : enquiries@galloper-sands.co.uk
---
Location : How to Find Us
We are located on The Grove lane between the villages of Great Glemham and Sweffling in the beautiful Upper Alde Valley of East Suffolk UK :
White House Farm
The Grove
Great Glemham
Suffolk IP17 1LS
Find us
Contact : enquiries@galloper-sands.co.uk / [00 44] 1728 663531
Instagram : @gallopersands
Newsletter : Sign up here
Galloper-Sands is part of The Alde Valley Spring Festival Ltd - Company No 7592977 is based at White House Farm, Suffolk UK.