Opening Times : Autumn Exhibitions
Join us for our Autumn Exhibitions - 23rd October - 28th November
Please see Visit and View below, for further details of how to find us and what we offer.
Open Daily 10am-5pm from Sat 23rd to Sun 31st October
Open Weekends and Wednesdays 10am-5pm in November
The Barns, White House Farm, Great Glemham, Suffolk IP17 1LS
---
Showing over eighty new works from the
Galloper-Sands Residency Programme
TESSA NEWCOMB : Exhibition + Book Launch ~ Where I Belong
View Catalogue
BECKY MUNTING ~ The Rebirding Residency
View Catalogue
PERIENNE CHRISTIAN ~ Alive in the Landscape
View Catalogue
RUTH STAGE ~ Into the Light - An Exploration of the River Alde
View Catalogue
JANE WORMELL ~ The Hedgerow Residency
View Catalogue
---
Also Showing
Alde Valley Settles by Jim Parsons. Pop Up Shop for pottery, jewellery, books, bags, textiles, woollens. Tea, apple juice and cakes served outdoors at Weekends. Fires lit. Farm Nature Walks open. No dogs please. For covid Safety all food and drink will be served in the open air with safe distancing
Please see Visit and View below, for further details of how to find us and what we offer.
Join us for our Autumn Exhibitions - 23rd October - 28th November
---
Introducing Galloper-Sands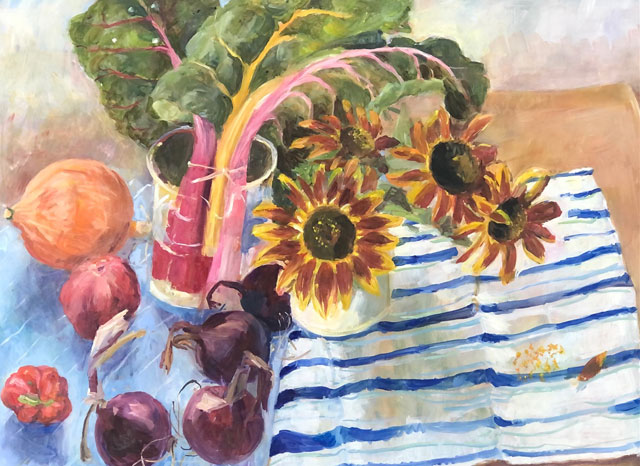 Galloper-Sands is the new online art gallery for the Alde Valley Spring Festival Ltd. We specialise in offering collections of historic and contemporary works of fine art and heritage crafts made by artists and makers from East Anglia in the United Kingdom.
Catalogues of our current collections are available through our website. We also have showrooms in a beautiful rural location in East Suffolk UK. We can offer customers drop in viewings of the Galloper-Sands Collections at Weekends and on Wednesdays throughout the year, unless advertised otherwise.
After the viewing visitors are invited to stay for a picnic or explore some of the public footpaths and private nature walks at the farm - also the home of the Alde Valley Sroing Festival and Plomesgate Fair. A Festival Shop is also open to visitors.
This is stocked with a carefully curated selection of handmade pottery, porcelain, silk scarves, woollens, jewellery, books, baskets, cards and bags - together with handmade products from the farm and a small range of local foods.
We very much look forward to welcoming you to the farm for a visit - or helping you with any online enquiry you may have about works for sale in the Collections. Families and children are welcome. We ask that you take care when on footpaths and farm nature walks, keeping to waymarked routes and ensuring that children are supervised at all times. No dogs please - we are a working sheep farm with other resident animals and pets.
If you would like more information about any of our Collections please contact : enquiries@galloper-sands.co.uk
---
Your privacy is important and we will not share your data with any other companies. We will only contact you about events and news from Galloper-Sands, the Alde Valley Spring Festival and Plomesgate Fair.
---
Drop in Viewings
We are delighted to invite you to visit White House Farm to view work from the Galloper-Sands Collections in our showrooms at the farm. Please note that viewings are dependent on any current covid regulations. We ask that all guests and visitors keep safe social distances and recommend masks in any enclosed rooms - although most areas are outdoors and airy.
For more information please contact : enquiries@galloper-sands.co.uk
Please follow the signage to ensure a smooth flow around the barns. The Welcome Desk is in the centre if you have any questions. All work is for sale, transactions by bank transfer or cheque only. You will be given full details of how to pay when you arrive.
We are sorry not to able to offer fresh food and drink for sale onsite at the moment. We heartily recommend supporting the many fine local providers - The Crown at Great Glemham, Juniper Barn in Sweffling, Friday Street Farm Shop just off the A12, village shops in Peasenhall or the Marlesford Farm Cafe. Please check their opening hours and booking procedures with them. Please note : there are at present also no visitor toilet facilities on the farm.
After your time in the barns, you are very welcome to follow signs to sit in two nearby picnic areas in the fields - to enjoy the space at a distance from any other groups for up to an hour. You are welcome too to bring your own food and drink for consumption there - and to enjoy the public footpaths and private nature walks on the farm. Please take your rubbish home with you.
* This is a working farm with sheep, lambs and free range poultry. We ask you please do not bring dogs.
We are very much looking forward to seeing you at the farm and welcoming you to the barns.
---
Galloper-Sands Historic Collections
We are delighted to be able to offer for sale lithographs, drawings and paintings by Suffolk artist Harry Becker. All works are sourced from the Loftus Family Collection, which received much of Harry Becker's estate. Becker grew up in Colchester in East Anglia and trained as an artist at the Antwerp Academy in Belgium. He was celebrated in his own lifetime for his etchings and lithographs, which feature in many museum and gallery collections around Europe. He was less well known at the time for his field sketches and drawings - and his paintings. He moved with his family, his wife Georgina and daughter Janet, to Wenhaston in East Suffolk. Here, until his death in 1928, he spent his days and the passing seasons watching and drawing people at work in the landscape. His work has gained, quite rightfully, a much wider audience and a very loyal following in the past two decades. We are deeply honoured to be able to work on behalf of the Loftus Family Collection, releasing selected works for sale.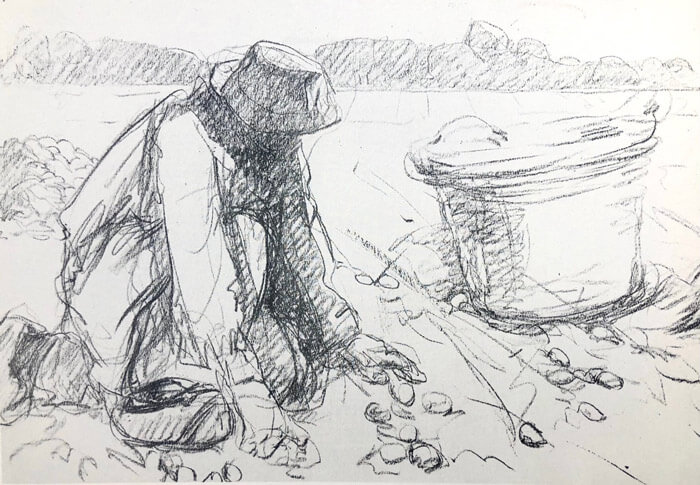 Becker Catalogue 1 : The Lithographs of Harry Becker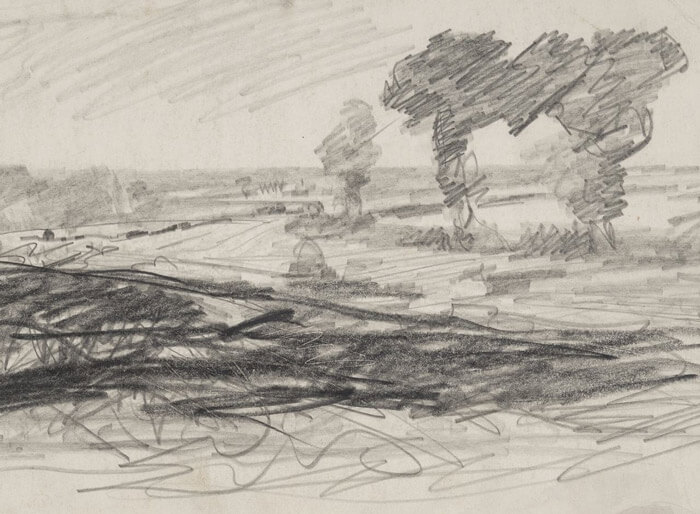 Becker Catalogue 2 : From this Land - Drawings & Watercolours
We also hold small collections of historic Suffolk works by other artists including Mary Potter, Margaret Thomas, Mary Newcomb and Peggy Somerville. Please email us for more information about available works by these artists. If you have works by these or other historic Suffolk artists that you would like us to advise or help with selling, we would also be delighted to assist.
For more information please contact : enquiries@galloper-sands.co.uk
---
Galloper-Sands Contemporary Collections
Our Contemporary Collections present drawings, paintings, sculptures, prints, etchings and coloured engravings by growing number of guest contemporary artists, all of whom are taking part in our new Galloper-Sands Residency Programme. This offers guest artists one / two / three year landscape residencies in Suffolk or other locations in the UK and abroad to develop their practice through chosen subject areas. The subject of each residency is developed in collaboration with the artist and is linked to specific wildlife conservation activities at the farm and elsewhere. The intention is that the residency programme also supports local ecological enrichment, alongside the arts.
Further interdisciplinary exchange is supported by inviting guest writers, musicians and sound artists to respond to work arising from the Galloper-Sand Residencies. This interweaving of the visual arts, literature, music and sound installations with local ecology and landscape enrichment feels a vital process moving forwards in 2021, allowing for the visual and creative arts to be re-rooted in wild ecology, historic landscapes and local communities - both in the UK and internationally.
Each Galloper-Sands Residency leads up to a large Solo Show. This is usually after one or two years of collaboration. But, in working closely with each artist, we are also able to release carefully selected works along the way. These are the source of our Contemporary Collections, which are available exclusively through Galloper-Sands. They can be viewed online through our forthcoming catalogues or in our new showrooms at the farm.
It is an honour to be able to work with the growing number of guest artists, writers and musicians who have joined the Galloper-Sands Residency Programme – and whose work contributes to Galloper-Sands Contemporary Collections. More information is provided below. Please feel free to email us for images and prices – or book a private view through our online booking system.
The Walks Land Residency ~ Melanie Comber
A year long land residency that follows The Walks field through the four seasons, with visits to the farm at each equinox. The field and its appearance in the changing seasons are represented in a collection of striking new paintings.
Everything You Need ~ Tessa Newcomb
Tessa Newcomb's work was foundational to the creation of our parent business The Alde Valley Spring Festival. It is a delight to be able to introduce new and historic works by Tessa Newcomb at the start of Galloper-Sands Collections. The paintings celebrate a sense of rootedness that comes from being in one place - in this case the farm and the surrounding Suffolk landscape.
Note : in October 2021 we will be hosting the launch of Tessa Newcomb's new book Where I Belong.
On A Turning Wing ~ Jason Gathorne-Hardy
An ongoing residency project based at Slaughden on the Suffolk coast - a point at which the River Alde and the North Sea almost meet and where seabirds roost, feed and wheel overhead. Guest writer : Paddy Bushe - poet and author of numerous collections including On a Turning Wing, Dedalus Press 2016.
Catalogue 1: Flight Studies
Catalogue 2 : Seagulls in Flight
Catalogue 3 : Airborne
The Cherry Ingram Blossom Residency ~ Emma Green
An ongoing residency that celebrates the life of Collingwood 'Cherry' Ingram, regarded as a saviour of Japanese cherry blossoms. Over fifty young Japanese flowering cherries grow at the farm. For the past two years Emma Green has been painting each variety of flowering cherry as it breaks into blossom. Guest Writer : Naoko Abe – author of 'Cherry' Ingram – The Englishman who Saved Japan's Blossoms. Guest Musicians / Composers : Dide Siemmond and Charly Jolly.
Iris Paintings ~ Jelly Green
We are delighted to offer a selection of iris paintings by Jelly Green, including varieties bred by Sir Cedric Morris at Benton End in Hadleigh, Suffolk. Benton End was the home of the East Anglian School of Painting and Drawing, which Cedric Morris co-created with his life-long partner Lett Haines. Students of the school included Lucian Freud and Maggi Hambling - who herself has also taught Jelly Green.
The Rebirding Residency ~ Becky Munting
The Rebirding Residency is an ongoing collaboration with wildlife artist Becky Munting. It records and follows bird life at the farm. It is linked to a range of rebirding projects that are intended to significantly improve habitats for wild birds. These include the creation of wetland areas, woodland clearings, pollen / nectar-rich grassland and nightingale corners. Guest Writer : Melissa Harrison – novelist and nature writer; author of At Hawthorn Time and Rain.
Catalogue - coming soon.
For more information please contact : enquiries@galloper-sands.co.uk
The Woodland Residency ~ Jennifer Hall
A three year residency that explores the wildlife and changing structure of three small areas of planted and wild woodland in the Upper Alde Valley through drawings, bronzes and prints. Guest Writers : Kin'd & Kin'd [Kay Syrad and Clare Whistler]
Catalogue – coming soon.
For more information please contact : enquiries@galloper-sands.co.uk
Across the Plough ~ Sarah Butters
A year-long land residency inspired by The Walks field and a contemporary folk song about ploughing with Suffolk Punch horses. During the course of the residency Sarah is creating a hand knitted ploughman's cape, made with wool from the farm, some dyed with plants gathered from around the edges of The Walks field.
Catalogue – coming soon
For more information please contact : enquiries@galloper-sands.co.uk
Tales from a Transitory Land ~ Perienne Christian
An ongoing residency that explores the character and quality of the land on the ever changing East Suffolk coast, focusing on its shifting shoreline, medicinal plants, wildlife and the landscapes many fleeting historical narratives.
Catalogue – coming soon
For more information please contact : enquiries@galloper-sands.co.uk
Fungi at the Farm ~ Alice-Andrea Ewing
Fungi and mycorrhizal associations are a vital part of a healthy landscape, helping grassland and woodland plants to gather in and process nutrients. Over the past two decades various steps have been taken at White House Farm, the home of Galloper-Sands, to help restore fungi in pastures and woodland in the historic farmed landscape. We are delighted to be working with Alice-Andrea Ewing and Pomarius Collections to capture this resurgent diversity of fungi in bronze, starting with a wonderful crop of St George's Mushrooms gathered in late Spring 2021.
Catalogue – coming soon.
For more information please contact : enquiries@galloper-sands.co.uk
Trees in the Landscape ~ Julian Perry
Tree health is becoming an urgent issue in the British landscape. Elm trees, ash, oak, alder, horse chestnut and various pines are all suffering from an onslaught of diseases and pests – perhaps weakened by climate change and the extensive use of chemicals on farmland. Yet, if given space, trees and woodland have an immediate immense capacity to recover naturally. Land often wants to be woodland or forest, and it's principally a matter of letting land go so trees can set seed and regenerate. At the farm various veteran trees and patches of woodland are managed to create a mosaic of habitats – alongside a newly established nursery of over 2,000 home-grown oak and sweet chestnut seedlings. It is into this setting that we are immensely excited to welcome the painter Julian Perry – as a prelude to a major show with Galloper-Sands in July 2022.
August Catalogue – coming soon.
For more information please contact : enquiries@galloper-sands.co.uk
---
Galloper-Sands Handmade
Alongside the visual arts, we are fortunate to be located in a landscape that is home to many gifted craft-workers and makers. Our new venture Galloper-Sands Handmade presents contemporary collections of pottery, porcelain, basketry, textiles, woodwork, jewellery, culinary knives and furniture. All designs are made exclusively for us by a growing number of guest makers.
Alde Valley Settles ~ Jim Parsons
The Becker Basket ~ Peter Dibble
Bowls, Jugs & Mugs ~ Mercury Hare
Great Glemham Dairy Stools ~ Jim Parsons
Great Glemham Foraging Bags ~ Studio Vandertas
Great Glemham Kitchen Knives ~ Leo Wood
Great Glemham Porcelain ~ Steven James Will
Hand Printed Textiles ~ Jenny Nutbeem
Suffolk Long Benches ~ Jim Parsons
The T-Table ~ Synnove Fredericks / Arms & Legs
Woodland Jewellery ~ Eilidh Allan
---
Galloper-Sands Bespoke
Working with a small number of carefully selected makers around the UK, we can offer customers an in-house design and build service for handmade chairs, stools, benches, coffee tables and dining tables. Specialities include benches, stools and exceptionally large single plank dining tables made from slabs of home-grown / locally sourced oak, ash and Cedar of Lebanon.
For more information please contact : enquiries@galloper-sands.co.uk
---
Location : How to Find Us
We are located on The Grove lane between the villages of Great Glemham and Sweffling in the beautiful Upper Alde Valley of East Suffolk UK :
White House Farm
The Grove
Great Glemham
Suffolk IP17 1LS
Find us
Contact : enquiries@galloper-sands.co.uk / [00 44] 1728 663531
Instagram : @gallopersands
Newsletter : Sign up here
Galloper-Sands is part of The Alde Valley Spring Festival Ltd - Company No 7592977 is based at White House Farm, Suffolk UK.